Slate Roofing Services by Lifestyle
Slate roofing tiles are low maintenance expenses that need no cleaning. They usually get you a lower premium on home insurance policies. Also, they give your home a higher resell value.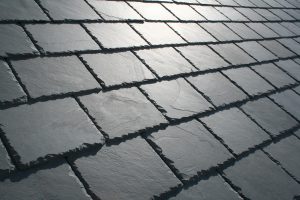 Reasons to Get New Slate Tiles
Uneven Slate Tiles
Uneven tiles will cause breaking of that tile or the tiles around the tile in question. We make sure surface of the slate tiles we use is smooth and doesn't have any curves on both front and back.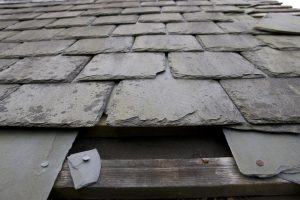 Bad Application
Bad Application can compromise your waterproofing of the roof and warranty of the product. This can be from — another roofing company — using regular roofing nails instead of copper, or from nailing too far into the roof.
Different Types of Slate Roofing
Standard (Uniform) Slate Roofs: Uniform horizontal courses with alternating aligned vertical joints.
Patterned Slate Roofs: Slates of different colors or shapes laid out in patterns.
Random Width Slate Roofs: Slates with uniform thickness but a variety of widths.
Multicolored (Blended) Slate Roofs: Uses a blend of colored slates.
Graduated Length Slate Roofs: Slates of various lengths are used.
Graduated Length / Thickness Slate Roofs: Slates of various length and thickness.
Textural Slate Roofs: Slates with rougher textures and thickness.
Hang-down (Staggered Butt) Slate Roofs: Slates of random length in an overlapping manner.
What Is A Slate Roof's Life Expectancy?
Slate tiles have an amazing life expectancy of around 75-100 years and weather even better than impact resistant shingles. Slate roofing tiles are a lifelong material that won't catch fire or need any coating to protect the surface.
Can You Paint Slate Roof Tiles?
You can paint slate roof tiles. But, will need a special coating designed for concrete, clay, and other natural surfaces applied before painting.
Call us today at (405) 470-6999 for a free quote!