Our Roofing Process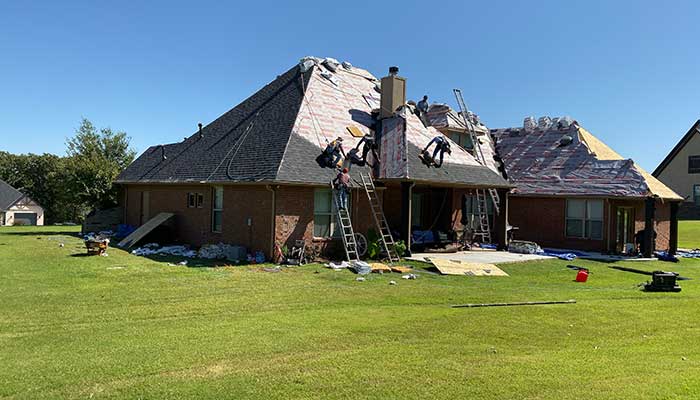 Lifestyle does an initial evaluation with the property owner to determine their needs. This includes proper ventilation, leak prevention, foundation issues, decking problems, and anything else we can find that would affect the outcome of a job well done.
Once we remove the shingles from the roof, we will evaluate the decking to ensure we have a proper nailable surface up to building code
Lifestyle will felt the entire roof surface covering all hip and ridge joints using roofing felt. Roofing felt is a type of tar paper that acts as a moisture barrier. Lifestyle chooses to use synthetic felt which comes in a roll of 1,000 SF. GAF and other companies sell 15-pound or 30-pound synthetic felt; we use both depending on the pitch (how steep) your roof is. Synthetic felt is a better option, mainly because it has fibers intertwined inside the layer of the material itself. The 15-pound felt is very difficult to tear, and the 30-pound felt is almost impossible to tear with your bare hands.
During the felting process Lifestyle will install chimney flashing, step flashing, or any other type of flashing so water doesn't find its way into the home.
Once the felt is secure, we will install drip edge on the eaves, and then ice and water shield in all the valleys, dead valleys, and chimney areas. Ice and water shield is an additional defense against leaking that the insurance does not always pay for, and most roofers will not install it because of cost.
Right before we begin roofing, Lifestyle installs a starter course of shingles on the eaves and rakes called Pro-Start or starter course. The first shingles we install will have a type of tar on the shingle edge that allows the shingles to stick together. This prevents potential blow-offs during a violent windstorm. The starter shingle can also help prevent potential leaks and your shingles from curling downward over time.
Lifestyle's installation crews always use a chalk line to ensure the shingles are installed in a straight line on each slope. Lifestyle uses coiled nails rather than staples to reduce the likelihood of them backing out or damaging the decking.
Once the slopes have been roofed, we install all hip and ridge shingles. Our customers have their choice to install a 3-tab ridge, Z ridge, Timbertex, or a type of high profile ridge based on their personal choice.
Lifestyle's roofers will then blow all the loose debris off the roof and caulk all vulnerable areas. We then install all roof metal including but not limited to wind turbines, 750 vents, power vent covers, heater vent caps, flu caps, and flashing where it is needed. We then caulk the roof again just to make sure we get all vents and boots that were just installed.
Lifestyle uses a 3-foot magnet around the property to remove any nails, metal materials, or loose debris for dumping. All garbage and debris will be removed daily and at the completion of the job.
Once the roof is complete, we then do a final walk around with the homeowner to ensure satisfaction.